Pricing samples for some of our more popular requests...

| QTY | Disc | Packaging | Price |
| --- | --- | --- | --- |
| 100 | CD-R | Full Colour CD digitally printed direct to surface, supplied in bulk | £0.76 |
| 250 | CD-R | Full Colour CD digitally printed direct to surface, supplied in bulk | £0.73 |
| 100 | CD-R | CD-R Full colour CD digitally printed direct to surface print, supplied in clear C-Shell case | £0.94 |
| 250 | CD-R | Full colour digitally printed and duplicated CD-R and supplied in clear plastic wallets with flap | £0.78 |

All prices exclude VAT and delivery
If you're a musician or band, and you need an audio disc copied and printed 50 times with a plastic sleeve for promo, or a full CD Jewel Case with a digitally printed booklet and inlay produced on our Xerox Digital Printer, we can help! If you need anywhere from 50 to many thousand CD-Rs digitally printed and duplicated, we have the capacity to meet your CD production requirements.
A CD-R disc holds up to 700Mbyte of data or audio data, so can easily contain your business brochures in a PDF format or even your whole website!
Here at Media Matters Technology, we only use JVC/Taiyo Yuden media - the best CD-R media available, providing a superior printable surface for vibrant colours, and a data integrity that will allow your discs to be used and enjoyed for many years to come.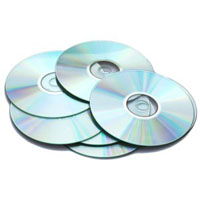 Whilst our CD Duplication and Printing services are normally suited for production runs up to 1000 discs, we can easily accommodate much greater numbers - Our CD Replication service is the more efficient and cheaper option for larger runs, but production can take more time than you may have available, so please call us to discuss all of your production requirements.
Artwork for your CD Duplication
Please visit our Supplying Artwork page where you can download information on how best to supply your artwork to us. Alternatively if you have not created your own artwork for your CD, for a small fee we can be of assistance to you.
All our CD duplication and printing is undertaken with the latest technology, providing direct to surface full colour digital printing for your CD. Your CD discs are then UV lacquer-coated for a permanent glossy finish. Media Matters Technology will always provide you with the following:
Free Artwork Set up
Free Electronic Proof
Fast turnaround 2 - 3 day service. Need your discs within 24 hours? Please call us 023 92 412945
Confidential and Friendly Service
Fast Quotations: Call us on 023 92 412945, or get a quote online
Other services provided by us include:
Video Conversion to various formats
Complete Mailing and Fulfillment
CD and DVD - utilizing the latest authoring technologies
Sales and Support of CD and DVD duplication, printing and publishing systems for your in-house requirements
USB Flash Drive production and duplication
As with CD duplication, our DVD Duplication services are carried out in-house and to the highest of standards using JVC/Taiyo Yuden CD-R media.
Wherever you're based in the UK, we are able to provide full CD duplication services to you. To get an idea, here's a list of areas where we currently serve customers:
Aldershot, Andover, Basingstoke, Birmingham, Bognor Regis, Bournemouth, Brighton, Chichester, Emsworth, Farnham, Guildford, Hastings, Havant, Hayling Island, Isle of Wight, London, Petersfield, Poole, Portsmouth & Southsea, Romsey, Southampton, Waterlooville, Winchester